The Art Of Hospitality
Entertaining Fussy Houseguests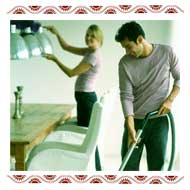 Fussy houseguests: Where do you draw the line and when do you go the extra mile?

Your aunt and uncle are visiting you with their teenage son. You want to give them a comfortable stay, but you know how difficult they can be. The house has been cleaned like never before. Everything looks ready for your aunt's critical eye. The fridge has been stocked with your uncle's favourite beer, even though it's more expensive than the one you drink. You're struggling to put away the last of those clothes strewn around the room, while your wife scrambles to cook dinner before the houseguests arrive. You feel the tension in the air, and want nothing more than the arrival of next week, when they'll be gone.

There are two types of houseguests people hate: fussy guests and the ones that linger on, extending their stay uninvited. The latter can be dealt with few horrible meals or a rat put on purpose in their pillow. Just joking! Try some subtle hints like talking about your upcoming busy plans and offering to reconfirm their ticket back home. But the former are far more difficult to handle. Sometimes you need to go the extra mile to keep them smiling, and sometimes you need to know when to call it quits!


Go the extra mile to keep your fussy guests from complaining:

Take care of the basics - Etiquette demands you give your houseguests a clean room with fresh sheets and extra pillows. If there's more people than beds in that room, make arrangements for a spare floor mattress or sleeping bag. Remember things like fresh towels, spare blankets and a pitcher of water with glasses. Your guests will appreciate having it ready in their room, rather than asking you for it.
Bathrooms matter - Whether or not they will be sharing your bathroom for the duration of their stay, keep all bathrooms spic and span. While some guests carry their toiletries, others may forget or expect you to provide. Make sure you purchase an extra toothbrush, toothpaste, soap and shampoo for your guests. An air freshener in every bathroom is a nice touch and a cover up for you-know-what!
Stock up your kitchen - Make your guests feel at home by suggesting that they are welcome to help themselves in the kitchen. Houseguests might need an extra snack or drink late at night too. Fill up your pantry with some munchies and different types of ready to drink beverages.
Plan their meals well - Find out in advance if any of the expected houseguests have food allergies or dietary restrictions. Plan a few meals around that and make sure your groceries are all in before their arrival. Cook ahead of time if possible.
Plan a few activities - You don't want everyone to complain that they're bored. Make a list of attractions and events around your town. Once they arrive, discuss the options and take them to the places they are keen on. Leave a map and detailed instructions on public transportation should you be busy at work.
Draw the line and dish out a polite "No" to your guests:

Bringing along other house guests
- A host should flatly say no if a house guest suggests bringing along a friend. Space constraints, not knowing them well enough to have them over or simply feeling awkward can be used as excuses. It's far better than fuming under a fake smile.
Dining out daily - If your guest suggests eating out every night, you can politely decline. Hosts generally end up offering and paying for meals outside and if your pocket does not permit it, don't be embarrassed to suggest staying home. This would mean you have to cook and maybe entertain them with playing cards, a board game or a movie.
Consuming items prohibited at your place - Just because your guest is used to smoking a pack a day or drinking alcohol before meals, you don't have to let him do so at your place. Vegetarians can make it clear to their guests that meat is not brought in the house. The fundamentals of your lifestyle cannot change because you have houseguests. Politely suggest ways for them to indulge in their needs outside of your house.
Influencing your children - If children have exams around the corner and your guests invite them out to join in the sightseeing, you have to step in. Make it clear that they cannot discourage your kids from their priorities. A late night over the weekend might not hurt your school aged child, but you cannot let that be routine for the entire stay of your houseguests.

Make your fussy houseguests feel warm and welcome, just don't let them take over your house!


Aarti Thadani
Philips Mixer Grinder - HL1629
Heritage Casserole Set - 3 Pieces
Prestige Premium Appachetty
Rs.3,795 ($78.83)
Rs.1,175 ($24.41)
Rs.670 ($13.92)











Ask our Experts :
Expert Advice, Personality, Immigration (US), Tarot, Hot Couture, Body Care, Matrimonial Laws, Sexual Health, Life, etc, Man vs Woman, Fitness.