Bedroom Decorating Ideas For Newly Weds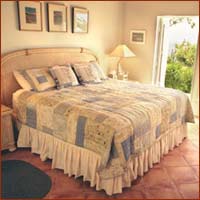 You're tying the knot in a few days and are obviously excited about the D-day. You want everything to be just perfect - straight out of a fairytale setting. From the actual Shaadi rituals and the mandap to your trousseau, guest list and the decorations - everything has to be a dream come true. After all, it's a once in a lifetime affair.

But haven't you forgotten a very important part of your wedding decorations - your bedroom?

Instead of leaving it on others to make your room the perfect romantic haven for that special night, it would be more thoughtful if you actually used your own unique ideas to do up the room.


We help you with some tips for making your wedding night a night to remember!

Colour code: A few days before your wedding, give your bedroom a fresh coat of paint to bring in some newness and vitality. Light blue, lilac, baby pink, serene yellow or even exciting red can be good colours. They bring in positive energy and promote harmony.
Bedtime tales: Your bed is the most important piece of furniture in the room, so ensure that it's of good quality - teak or any other wood. A queen-size four-poster bed is a good investment. You can decorate the posts with beautiful white and red flowers or soft shimmery textiles in pastel colours. Use satin sheets to sizzle in (they contribute to the sensual and relaxing experience).
Curtain call: Your curtains must correspond with the colour on your walls (e.g. if walls are lilac, curtains with a motif where the colour lilac is dominant will look simply great). Use fabrics that are sensuous like silk, organza or voile and top up with a heavy screen like velvet to keep the sun away, when you wake up the next morning.
Embellish: Other pieces of furniture should be just bedside the tables and a small intimate centre table with two cosy chairs for a tête-à-tête, the next day. Be liberal with his/her favourite multi-coloured or theme flowers in small white crystal vases on the tables. Big size cosy cushions should adorn the chairs, preferably in earthy colours like sand and earth.
Light up: Use soft lights in the bedroom and non-fussy simple modernistic lamp-shades. Also use a lot of scented colourful candles in the room and bathroom too. Place pretty handloom mats below the candles and light them up, once you switch off the lamps.
A shaaditimes feature
Heritage Casserole Set - 3 Pieces
Sandwich Maker
Designer Tea / Coffee Mug Set
Rs.1,000 ($20.77)
Rs.1,175 ($24.41)
Rs.800 ($16.62)
Rs.385 ($8.00)











Ask our Experts :
Expert Advice, Personality, Immigration (US), Tarot, Hot Couture, Body Care, Matrimonial Laws, Sexual Health, Life, etc, Man vs Woman, Fitness.