De-clutter Your House This Diwali
Sweep the mess right out of your life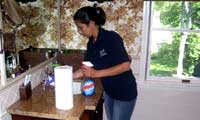 Your home is your haven. A place where you retreat after battling the rigours of the world and work - which is why it should act like a balm for your soul. A cluttered house makes you tense, causes you to loose sight of things you love and ushers in negativity.

This Diwali, take on Project De-clutter and sweep the mess right out of your life. Happy cleaning!



Identify clutter: Anything that you clutch onto but no longer use or even like, is clutter. The rock star tee from college, the gold purse from your wedding, the ugly bed-sheet your mom gave - junk it. Expensive stuff you don't use can be given away or re-sold if you can find a buyer. And if you can't sell it or pass it on, give it to your maids in exchange for some help cleaning up.

Start today: Delaying won't help. Get down to it right now, today. Don't take any calls and don't rush off in the middle of de-cluttering. It will make things worse. Just decide to do it and get down on your knees. If you can find some help - even better!

The 'unwanted' stuff: Old letters, shoes, clothes, faded torn photos, paper piles, old utensils, excessively worn baby clothes (your children are probably in college now), little trinkets, unused gifts like that ugly clock, shiny rexin shirt, etc., etc. They all have got to go. Don't sift through them and get sentimental. Just boot them out.

Set a time limit: If you can't finish it all in one day make separate sections but make sure you finish one section in one day. Do it room-wise for maximum benefit. Set a time of 1 hour for the bedroom and get started. Find a sack and dump every thing you don't need into it. If there's something that you want to give to friends, charity, etc., keep that in a separate sack for sorting later.

Stop being mushy: Some people feel relieved at clearing junk; others feel crushed for being insensitive. But remember that if that object or item was so needed in your life and had a great value, you would not be throwing it away in the first place! So detox your mind as you go about your job and set yourself free.
And most importantly - once you're done, reward yourself with a treat. You deserve it for being a De-clutter Diva (or Demon)!
A shaaditimes feature
Philips Toaster Oven - HD4495/25
Philips Mixer Grinder - HL1629
Prestige Omega Saute Pan
Rs.3,195 ($66.37)
Rs.3,795 ($78.83)
Rs.1,130 ($23.47)











Ask our Experts :
Expert Advice, Personality, Immigration (US), Tarot, Hot Couture, Body Care, Matrimonial Laws, Sexual Health, Life, etc, Man vs Woman, Fitness.