Things To Consider Before Buying Curtains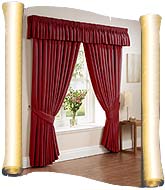 The festive season is about to kick off and it's only natural that you want your home to look lovely too. However, the budget does get knocked back a bit what will all the entertaining and gifting that happens during festivities. So where's the scope to perk up your home?

Curtains are a much overlooked accessory when it comes to home interiors. Most people forget about their curtains once they've been hung up there. At most, they remember to give the curtain a bi-annual clean up.


However, curtains can make a world of difference to the appeal of any room. So there are many different factors that you should consider before selecting your curtains. Here are some tips on buying curtains that are aesthetic as well as functional.


If the room is done up in dark tones and all the furniture is matched, then buy curtains in a contrasting bright color. They will break up the monotony of a single color and add vibrancy to the room.
If the room has a lot of mismatched furniture bought on whimsy then use neutral colored drapes so that they don't add to the eclectic look. Instead the curtains can provide a unifying backdrop for all the miscellaneous furniture.
The curtains can end either just below the window or go all the way to the floor depending on your preference. If there is any furniture or decorative pieces placed under the window then shorter curtains will be better.
If you want to control the amount of light entering into the room then Venetian blinds are a better option than curtains.
Curtains are a great way to add character to and divide long, narrow passageways as well.
Sheer curtains or gauzy curtains are great day curtains. They block the harsh sunlight but still let your room remain lit during the day.
Heavy drapes look good in rooms with a lot of antique furniture. They are best for the study or a formal dining / living room.
You can choose to have an extra set of richly embellished curtains to use only for the festive season. While rich burgundy or emerald green curtains may become too much on a daily basis (and a maintenance headache too!), during festivals like Diwali they can certainly give your living room that extra something!
Pay attention to the curtain rod also. Get something sleek and simple that doesn't overshadow the rest of your interiors. Or you could get something really stylish and complement it with simpler curtains. Either ways, choose the rods. Don't just use whatever's handy.

Thus, the style of interiors, the shape of the room, the purpose for which you want the curtains and the upholstery are all to be considered before buying curtains.


Kavita Harlalka
Nirali's 4 pieces Gift Set
Deluxe Kitchen Set - 3 Pieces
Royal Casserole Set - 3 Pieces
Rs.2,850 ($59.20)
Rs.675 ($14.02)
Rs.985 ($20.46)











Ask our Experts :
Expert Advice, Personality, Immigration (US), Tarot, Hot Couture, Body Care, Matrimonial Laws, Sexual Health, Life, etc, Man vs Woman, Fitness.