Going From Single To Married
Bedroom Woes You Need To Tackle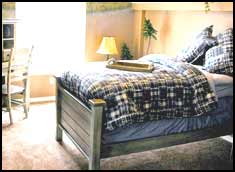 You are all set to get married and tie the knot. The dresses are final, the venue planned to the T, even the final calls to the guests have been made. But there is one critical aspect of moving from single-hood to being married that requires attention that most of us miss.

Your room has so far been the domain of a singleton who lives life his or her way. It was a bachelor pad where all guys hang out for beer and cricket. Or perhaps a girl's pretty pink place where you hosted pyjama parties when you were young and laughed and cried in adulthood over almost everything in your life. That needs to go now. You need to make your room acceptable to your partner. You don't want the single statement of your room to turn off or agitate your partner.


Here are some tips that will take your room from being a single's spot to a couple's hideout.
Remove the numerous photographs of friends from silly outings all over your bed head. It would make your partner cringe. Remember to put pictures of the two of you instead. Make your sweetheart feel like they are the most important person in your life.

If you are a guy, make sure all the beer cans and empty bottles are thrown away. Girls don't need to know how much alcohol you have gulped over the bygone years of your life.

Girls, please get rid of the stuffed toys on your bed. If you ask a guy you'll know that cushions and soft toys on the bed are stumbling blocks in their process of sleeping and love making.

A couple's room needs to be neat, tidy and minimalist. It must be able to accommodate the tastes of both partners in the room. Just a lot of pink or a lot of Ferraris all over the place can spoil the fun.

Make sure the bed is comfortable and spacious enough for two people. As a single you can do with anything. But as a couple, you need to ensure the bed is cosy, comfortable and tasteful.

You can put up paintings that signify union, romance and beauty. This will make your room bright and cheerful. Of course, don't overdo the room with colour or objects. Remember, the trick is to keep it tasteful but simple.

The way your room is lighted makes a lot of difference to the moods of a person. Some people like it soft, some like it bright. In fact, once you are married you might want to have some mood lighting in your room to suffice your various moments together. Find out if your partner is a yellow or white light person. And ensure that all arrangements are made to fulfil the taste of your new roommate.

And definitely, if you are a messy person, please don't let that reflect after marriage. At least one of you is bound to like cleanliness and this can be the biggest turn off. Make sure your room is neat, settled and makes provision for everything the other person needs. The guys can bring in some flowers and dainty articles. And the girls can introduce a bit of gadgetry or spunk to their rooms.
Don't let the bedroom become the place where you fight and go nuts. Let it be the retreat where you kiss and make up.
A shaaditimes feature
Prestige Omega Saute Pan
Sandwich Maker
Nirali's 3 pieces Gift Set
Rs.1,000 ($20.77)
Rs.1,130 ($23.47)
Rs.800 ($16.62)
Rs.2,460 ($51.10)











Ask our Experts :
Expert Advice, Personality, Immigration (US), Tarot, Hot Couture, Body Care, Matrimonial Laws, Sexual Health, Life, etc, Man vs Woman, Fitness.