The Art Of Snacking Smart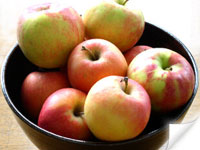 The myths and facts about eating in between meals. Proper snacking is power snacking, providing energy boosts throughout the day.
MYTH: Snacking leads to obesity. The biggest myth about eating in between meals is that it piles up the pounds faster than we imagine. It's perfectly alright to eat snacks but what's not good is munching so much throughout the day, that at mealtime you find you're not hungry. It is far better to be just alright rather than ''full over the top'' after a meal, followed by a small snack later.

FACT: Snacks should be low in fat. TV ads and other media portray the picture of snacks to be potato chips, doughnuts, biscuits and other calorie high but nutritionally low food items. It doesn't have to be that way. Choosing low fat and low sugar snacks can actually provide the required energy boost and mental satisfaction. So instead of all those tempting but unhealthy options, snacks could be yogurt, an apple, a handful of nuts, a few high fibre whole wheat crackers, a piece of boiled corn etc.
FACT: Out of sight, out of mind. If you don't have the high fat samosas at hand, you won't eat them. It's simple really. This also works reversely. Storing healthier snack options will encourage you to snack smart. At work, keep a few nuts or carry a fruit with you daily. This will prevent you from making a dash to the corner store for a chocolate or a bag of chips.

MYTH: Snacking should be limited to the daytime only. Eating dinner at least four hours before bedtime is the first step towards a healthy lifestyle. In that case, some people might experience a hunger time close to bedtime. A cup of warm, low fat milk or soothing camomile tea can leave you satisfied and make you calmer, inducing sleep better. Beware of night time snacks like chocolate ice cream or slice of cake, as these will certainly make you gain weight and keep you up.

FACT: Nibbling while watching TV is not a good idea. There are numerous studies that go to show we eat much more while watching TV. The mind does not focus on eating and hence might not feel satiated. Besides, most people eat more junk food in front of the tube.

MYTH: Snacking after school / work is a bad idea. After a day's work, the body is tired and sometimes has to wait a couple of hours before dinner. Rather than snacking on various small things like a few biscuits, a glass of juice, a bowl of bhel and a few chips throughout the evening; eat one sensible brown bread toast or two steamed idlis. The mental satisfaction of sitting down with a plate designated snack for the evening will prevent any other indulgences. This depends on individual schedules of course.

MYTH: Snacking before exercising will affect your performance. Exercising drains the body fluids, so replenishing those before the workout can give us a kick start. An apple and a glass of water, half a banana or just some natural fruit juice could be a great snack before exercising. The key is choosing the correct snack. Avoiding carbohydrates before workouts is a good idea.

FACT: Snacking should not be about a place or event. We always think we need popcorn while watching movies, mithais for every occasion and loads of peanuts while we are out partying. Some connect curling up to watch TV on the sofa with a bag of chips and the weekend long drives to bars of chocolates. We have to get rid of these correlations about snacks and events or activities. Raw veggies with a dip, slices of fruit with yogurt, low fat sandesh, baked chips or whole wheat and fruit muffins, steamed dhoklas and idlis, unsalted roasted nuts could replace all these typical snacks.
Aarti Thadani
Philips Grill - HD 4400
Prestige Premium Appachetty
La Opala Dinner Set- 35 Pieces (Urmi)
Rs.5,495 ($114.15)
Rs.670 ($13.92)
Rs.2,950 ($61.28)











Ask our Experts :
Expert Advice, Personality, Immigration (US), Tarot, Hot Couture, Body Care, Matrimonial Laws, Sexual Health, Life, etc, Man vs Woman, Fitness.