Summer Salads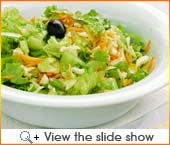 Most of us consume more water and eat less during summer, which is a good thing. But, instead of starving, why not try some great summer salad recipes? They're healthy and filling.

Indian food with loads of oil and masala makes you sweat, we agree! Summer is the time when we crave some light and refreshing foods that give us the energy to get through the day and the best way to do that is by eating more of salads. They're healthy and keep you feeling full for a longer period.

If you're a health freak, just make sure you go easy on cheese and mayonnaise. It's important to combine the right amount of greens, proteins, fibre, and salad dressing to get a wholesome, yet light salad. And, since it's not possible to eat diced cucumbers, tomatoes, and lettuce with a couple of spoons of vinaigrette dressing everyday, here are some cool salad recipes that are light, healthy, and delicious.


Ruchi Agarwal
Prestige Juicer Mixer Grinder V - 1
Prestige Omega Saute Pan
Deluxe Kitchen Set - 3 Pieces
Rs.2,995 ($62.21)
Rs.1,130 ($23.47)
Rs.675 ($14.02)











Ask our Experts :
Expert Advice, Personality, Immigration (US), Tarot, Hot Couture, Body Care, Matrimonial Laws, Sexual Health, Life, etc, Man vs Woman, Fitness.