Budgeting For Newly Weds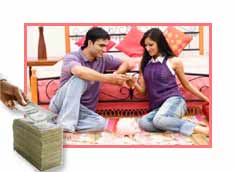 Now that you've tied the knot and the euphoria of your wedding and honeymoon is over, it's time to sit down and have a good money talk with your spouse.

Couples need to talk about money and understand each other's spending styles. As you move from the single to the married status, your life requires adequate financial planning, which begins with proper budgeting.

A good personal budget is like a map that shows your present financial status, reveals where your money is going and guides you in your future financial decisions.


It aids you in meeting your personal financial goals by planning expenditure and helps to selectively reduce and control your expenditure. The major purchases you'd have to make in future can be planned in accordance with your budget.

So how do you determine your budget?

The primary factors to be taken into account are:
Earnings: Your income will of course determine your lifestyle and there are no two ways about it.
Age: The younger you get married the more likely you are to be able to save better for a longer period of time. You will also have to pay less on things like life insurance policies and health insurance. On the other hand, an older couple may be earning better than a younger one. Age also affects the goals and saving plans of the couple.
Goals: Long term goals like owning your own house, a nest egg for retirements as well as short terms goals like a vacation, purchasing a new car, gadgets and jewellery.
Hobbies: Giving up hobbies altogether to save money is not going to cut it in the long run - you'll start feeling the pinch. Instead identify hobbies that you really enjoy and hang on to those. You may want to do away with frivolous, just for the heck of it kind of hobbies.

A budget shows you the sources of income and types of expenditure. Prepare a realistic budget considering your incomes and expenditure. A well-planned budget shows you how to manage cash flow. While forecasting cash inflows always be conservative as its best to underestimate than overestimate. While planning cash outflows take into account your monthly commitments including loan repayments, if any.













Ask our Experts :
Expert Advice, Personality, Immigration (US), Tarot, Hot Couture, Body Care, Matrimonial Laws, Sexual Health, Life, etc, Man vs Woman, Fitness.

Copyright © 2023 Shaaditimes.com - A relationship and wedding portal by Shaadi.com. - All Rights Reserved.
Terms and Conditions