Live Life King Size On Any Budget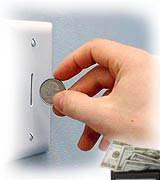 How often have you found yourself wishing for something only to realize that you can't afford to have it? If you're being honest with yourself, the answer has to be "very often!"
But what if I told you that it is possible to live life king size even on the tight budgets that most young professionals have?

What if I told you that you too can afford to take a nice holiday every year?

You too can pick up those expensive Rs. 3000 shoes without thinking that the money can be better used somewhere else?

You too can eat at fancy upscale restaurants?


The art is in knowing how to save enough money to be able to indulge your heart's desires. Here we show you how.

The first thing you need to do is make a list of where your salary goes. Along with the major payments such as rent, home loans, car loans, education costs, insurance premium, etc, you also need to list down all the small and big expenses regards to food, travelling, entertainment, shopping, and other household expenses.

After you have made this list, you need to check where you can cut down on your spending. Most people don't realize that they spend a lot of money on things that don't really excite them a lot. Cutting down on such items can help you to save some big bucks for things that do matter to you. Here are some ways in which you can cut back without feeling that you are sacrificing a lot.

Carpooling: Organize a carpool to your workplace. You can also do it for other things such as dropping kids off to school, doing weekly groceries and shopping sprees. This way, you can cut down on using your car every day of the week to just one or two days. The fuel savings alone can easily fund a fancy dinner each week!

Gym memberships: Each year, I paid 10000-12000 bucks at an average for a yearly gym membership. The first week or two, I was quite regular but after that I ended up going to the gym just a few days in a month. I finally realized what I was doing and gave up my membership.

The money that I ended up saving allows me to take a weekend break at a star resort, which I do around birthdays or anniversaries. And as far as working out goes, I have started walking and will only think about joining the gym if I manage to stick to my walks for an entire month!

Home box office: With the crazy ticket rates at multiplexes, one movie costs anywhere from Rs.500-600 for 2 people and if you're a larger family you will spend that much more. Instead, in Rs. 50 you can rent a DVD and watch the same movie at home, regardless of how many people are watching!

You can even make it a fun night out by inviting your friends over. This way, not only will you not miss going to the theatre but will also save big money. Just 8 months of watching movies at home instead of going to the theatre and I saved enough to buy my own Plasma TV!

Drink at home: You can cut down your dinner bill by as much as 40%-50% if you drink at home before leaving for the restaurant. And if you do need a drink during dinner, have the first couple of drinks at home before heading out.

Carry lunch: Instead of buying lunch from your office cafeteria or eating out at restaurants every day of the week, pack a lunch from home. Not only will it help to save money, but is far healthier than eating out. And if bringing lunch from home is a problem, order a tiffin service. For just Rs. 800-1000 every month, you can get nutritious home cooked food delivered straight to your desk!

Use electricity sensibly: Remember to turn off the lights and fan when you step out of a room, switch off the TV from its mains instead of using the remote, make sure your mobile phone charger is not plugged in if not being used, don't keep the geyser on for half hour before stepping into the shower, use the air-conditioner for half hour less every day, and do not keep your PC on throughout the day if you're working for just a few hours. These may seem like small things but you'll be shocked at how much money you can save on your electricity costs by using power wisely!

Apart from the above, there are hundreds of other ways in which you can save money. Even a few bucks here and there can add up to a lot and give you the freedom of spending on things that you really crave so that you can also feel like you're living the 'good life'!


Ruchi Agarwal
Designer Tea / Coffee Mug Set
Prestige Juicer Mixer Grinder V - 1
Deluxe Kitchen Set - 3 Pieces
Rs.385 ($8.00)
Rs.2,995 ($62.21)
Rs.675 ($14.02)











Ask our Experts :
Expert Advice, Personality, Immigration (US), Tarot, Hot Couture, Body Care, Matrimonial Laws, Sexual Health, Life, etc, Man vs Woman, Fitness.