10 Things All Women Need To Know About Sex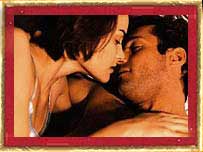 Most grown women think that they know everything they should know about their sexual health. They go for their annual health tests to their gynaecologist, they ensure that they take the required birth control measures, and they make sure that they have protected sex.

However, there's a lot more to a woman's sexual health than just knowing about all this.


Here are 10 things that every woman should know about sex which most of us don't!


It is not necessary that you have to get your period every month: If you're taking birth control pills, you usually have to take about a week of placebo pills which is when you get your ?period'. However, that is not a natural period but is a breakthrough bleeding. Birth control pills are designed to give you this kind of bleeding every month because we all believe that women have to get their period every month otherwise it is not natural. However, in the near future, new continuous birth control pills will be available where you will not get your monthly period at all. The reason behind this is that when you're on the pill, your endometrial lining does not build up and thus does not need to be shed every month.
There is no perfect birth control method: Yes, advertisements may say that condoms have a 3-4% failure rate or that birth control pills are almost 100% effective, but that does not mean that they will be effective. The only effective birth control measure is the one that you use properly. So, if you miss even a single pill, there are chances that you will get pregnant. And where condoms are concerned, if they are not used in the right manner, their failure rate goes as high as 15-17%. So, make sure you use your birth control measure exactly as it is intended to be used.
It is possible to get pregnant even before or after ovulation: Yes, not just during ovulation, but women can get pregnant even before or after ovulation. Sperm can survive for 2-3 days in your reproductive system. Thus, even if you have sex a day or two before you ovulate, or a day or two after, the sperm can survive and fertilize your egg. So, if you don't want to get pregnant, make sure you're extra careful not just at the time of ovulation, but for two days before and after.
Half of all women may have HPV: This is a sexually transmitted disease and research suggests that 50% of men and women may have it. Some types of this virus can even lead to cervical cancer. Thus, if you are sexually active, you should get yourself tested regularly. In the meantime, do practice safe sex.
Urination after sex is good for you: Many women complain of frequent infections in their urinary tract. If you too suffer from urinary infection, you can prevent it from happening by simply urinating after you have sex. The urinary lining can get damaged during sex and germs thus spread causing infection. Thus, urination helps to flush out any germs that may be present in your urinary tract and prevent infections. Drinking plenty of water is another way to prevent this type of infection.
Hormones affect your libido: Wonder why you're really in the mood for sex one night and absolutely not on another? That is due to hormonal fluctuations which increase or decrease your sex drive. In addition to hormonal changes, the relationship between you and your partner also plays an important role on your libido. Thus, if you want passions to be running high, make sure you are in a quality relationship.
Forgot to take your birth control pill? Don't worry: Yes, finally there is a morning after pill available in India that can prevent you from getting pregnant even if you had unprotected sex. The Ipill can be taken up to 72 hours after you have had sex to prevent an unwanted pregnancy.
Fertility diminishes earlier that you think: Most women believe that their fertility only starts to reduce after the age of 34-35. However, even in the early thirties, your fertility is not as high as it was in your late twenties. In fact, after the age of 34, things start going downhill quite rapidly. Fertility treatments too aren't that effective after your late 30s. So, if you're planning to have a baby, do know that your biological clock is ticking away faster than you expect!
Don't rely solely on self breast exams: While conducting self breast exams does play an important role in detecting possible breast cancer, you should not rely solely on that method of detection. You still need to get your breast exam done by a doctor and should get your yearly mammograms after the age of 30.
Suffering from PMS? Exercise is the best way to reduce those awful symptoms that are caused by PMS. Yes, exercise is the last thing that we want to do when you're going through your monthly suffering, but if you can get yourself to work out, it can help beat those symptoms easily and effectively.
Ruchi Agarwal
Digital Ear Thermometer
Digital Upperarm Bp Monitor
Citizen Ultrasonic Nebulizer
Rs.3,500 ($74.66)
Rs.6,500 ($138.65)
Rs.4,200 ($89.59)
Rs.2,900 ($61.86)
Rs.5,999 ($127.97)
Rs.2,800 ($59.73)











Ask our Experts :
Expert Advice, Personality, Immigration (US), Tarot, Hot Couture, Body Care, Matrimonial Laws, Sexual Health, Life, etc, Man vs Woman, Fitness.