Sex is an essential ingredient of marriage:
A Prelude


Sex is one of the natural instincts in us, gifted to us unasked, by existence. It is as normal and healthy as other functions of the body. However, in the growing years, very often something goes wrong somewhere, sometime, somehow... and we become very uneasy and uncomfortable towards sex. We fail to understand the need for a healthy expression of this energy 'sex' within us... we start fighting against nature, only to see ourselves losing... and it becomes a breeding ground within us for a series of problems, affecting every aspect of our life - our education, creativity, career, relationships - leaving us anxious, depressed, guilty and full of self-doubt.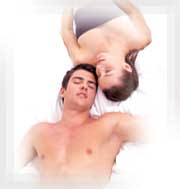 Sex is an essential ingredient of marriage. The satisfaction or dissatisfaction in sex can contribute to the attitudes & behavior of both partners towards each other. Research shows that both men & women have strong & equal sexual urges and it is the responsibility of both to satisfy each other's needs and respect each other's moods & feelings. Sexual activity is not meant only for procreation. It contributes to pleasure & enjoyment. It is also a means of intimate communication, bonding and expressing love for each other. Both partners therefore need to be comfortable with each other, understand & respect each other's needs and talk openly about the feelings of pleasure or pain that the sexual activity causes.

It is said that sex is between the two ears and not between the two legs. Whoever said this must be completely aware of the relationship between self-esteem and sexual relations. So we see that frigidity in women and impotence in men (whether temporary or permanent, with mild to severe consequences) is so often related to their lowered self-esteem, and their marital life can face major upheavals because of this.

I see many people greatly bothered & disturbed over their sexuality. David Reuben, author of 'How to Get the Most out of Sex' writes: "If sex is right, then everything is right. If sex is wrong then nothing else can be right". Very often the anxieties, difficulties and problems stem from lack of correct knowledge or 'wrong' knowledge. As a counsellor very often giving correct knowledge authoritatively itself is enough to treat many sexual problems.

In the next issue I shall tackle all those very common queries, myths and misconceptions that haunt men & women. It will help many to get comfortable with their sexuality.


Dr. Rajan Bhonsle
Heart Check
Digital Thermometer
Digital Ear Thermometer
Rs.950 ($20.26)
Rs.3,500 ($74.66)
Rs.4,900 ($104.52)
Rs.850 ($18.13)
Rs.2,900 ($61.86)











Ask our Experts :
Expert Advice, Personality, Immigration (US), Tarot, Hot Couture, Body Care, Matrimonial Laws, Sexual Health, Life, etc, Man vs Woman, Fitness.