Should you have intercourse on the first night?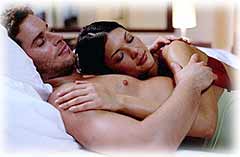 90% of marriages in our country are still arranged marriages where there is no love between the partners to begin with. It is merely an arrangement done by two well-suited families to keep up a tradition. After such a marriage, man gets the legal and moral permission to have sex with his wife.



A man with his body-oriented sexuality, who is starved for sex (as boys get sexually active around 12 - 14 years of age but get married almost after a decade) tends to get blinded towards his bride's feelings and state of mind and ends up forcing sex on her on the first night. The woman, feeling rather awkward, uncomfortable and exploited, allows this humiliation as our orthodox teachings teach girls to be meek, submissive and tolerant. In my 20 years of practice, I have seen several cases of this kind.

The woman gets sexually aroused only if she loves the man, but here; he is giving her all the reasons to hate him. And this is how their married life begins. Instead of love, a seed of hatred is sown. That is why we see so much pain, conflict and break-ups in marriages. I have seen many women, who have not felt loving towards their husband even once, even though they have borne children.

It is so necessary for a woman to 'love' the man to get sexually attracted to him. Arranged marriages, the way they are planned and executed, lack the opportunity and atmosphere for love to happen, therefore we must provide for the couple to get well acquainted with each other before marriage.

Very often the couple is utterly exhausted at the end of an elaborate wedding ceremony. Both are strangers to each other. Both are ignorant or have misconceptions about the sexual experience. Men carry an anxiety about their sexual performance. Girls have the fear of pain and bleeding at the first intercourse. There is a fear of pregnancy. At the same time both feel that they have to live up to the first night fantasy as depicted in novels and movies. With so many uncertainties and anxieties, it becomes impossible for a couple to enjoy one of the most profound experiences of their life.

I strongly recommend youngsters to avoid sexual intercourse on the first night, particularly in arranged marriages. There is nothing wrong if the couple decides on their own to postpone their first sexual intercourse after the marriage till both of them are physically and emotionally relaxed, instead of rushing in to fulfill the common expectation of the first night (Suhaag Raat). They lose nothing, but they may gain a great deal of mutual love and respect, which can then become a foundation of a happy married life.


Dr. Rajan Bhonsle
Digital Ear Thermometer
Master Health check
Obesity Package
Rs.3,500 ($74.66)
Rs.7,280 ($155.29)
Rs.7,880 ($168.09)
Rs.2,900 ($61.86)
Rs.3,159 ($67.38)
Rs.5,246 ($111.90)











Ask our Experts :
Expert Advice, Personality, Immigration (US), Tarot, Hot Couture, Body Care, Matrimonial Laws, Sexual Health, Life, etc, Man vs Woman, Fitness.