Monsoon Care For Your Hair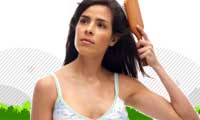 The monsoon, sandwiched between the heat of summer stickiness and winter dryness, is generally ignored when it comes to hair care. A regular hair care routine can go a long way in insuring you against tangles, wet and messy hair.

Our experts give you some tips on how to take good care of your hair during monsoon.
Firstly, choose a sensible hairstyle. Though short hair is easier to maintain in the rains, select a style that can bounce back into place easily after being wet. Avoid hairstyles that require your hair to be straightened, crimped or curled since the high levels of humidity in the air will make the hair go limp.

Try not to use hair sprays and gels, as the lacquers and gums can stick to the scalp causing dandruff.

No matter how much trouble you take to keep your head dry, a heavy rainy day is sure to leave you soaking. Proper drying of hair can help in minimizing the damage of excessive wetting of hair. If you dry your hair with a towel, avoid rough back and forth motions. And pat-dry your hair gently before using an electric blower. Also, make sure that the temperature is not too high or you may end up burning your hair.

Do not leave your hair wet or tie it while it is wet, as this could cause dandruff.
Dr. Sonal and Apoorva Shah
Digital Wrist Bp Monitor
Digital Upperarm Bp Monitor
Citizen Digital Blood Pressure Monitor
Rs.4,500 ($95.99)
Rs.6,500 ($138.65)
Rs.2,950 ($62.93)
Rs.3,999 ($85.30)
Rs.5,999 ($127.97)
Rs.2,150 ($45.86)











Ask our Experts :
Expert Advice, Personality, Immigration (US), Tarot, Hot Couture, Body Care, Matrimonial Laws, Sexual Health, Life, etc, Man vs Woman, Fitness.