Male Pattern Baldness 101


Dr. Rekha
A Certified Trichologist from International Association of Trichologists (IAT), Australia Dr.Rekha is a renowned hair-loss specialist. She treats clients with all types of Hair And Scalp conditions.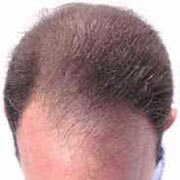 What is male pattern baldness?

Male pattern baldness is the common type of hair loss that develops in most men at some stage. It usually takes 15-25 years to go bald. However, some men go bald in less than 5 years.

Typically, at first the hair begins to recede (thin) at the front. At the same time, the hair usually becomes thin on the top of the head. A bald patch gradually develops in the middle of the scalp. The receding front, and the bald patch on the top gradually enlarge and join together.

A rim of hair is often left around the back and sides of the scalp. In some men, this rim of hair also thins and goes to leave a completely bald scalp.


Who gets male pattern baldness?

Nearly all men have some baldness by the time they are in their 60s. However, the age the hair loss starts is variable. About three in ten 30 year olds, and half of 50 year olds are quite bald. Some women also develop a similar pattern of hair loss.

What causes male pattern baldness?

Male hormones are involved in causing these changes. The level of testosterone, the main male hormone, is normal in men with baldness. Hair follicles convert testosterone into another hormone called dihydrotestosterone. For reasons that are not clear, affected hair follicles become more sensitive to dihydrotestosterone, which causes the hair follicles to shrink. It is also not clear why different hair follicles are affected at different times to make the balding process gradual. There is some genetic (hereditary) factor involved. It is also not clear why only scalp hairs are affected, and not other areas such as the beard or armpits.

Is it really Male Pattern Hair Loss?

Go to your Trichologist if:
You lose hair suddenly, if your hair loss is in clumps or significant enough that you notice large amounts on your pillow, covering the back of your clothes or when you wash your hair. This type of hair loss does not represent typical male baldness, but it does require a diagnosis. Don't worry. Hair loss can occur for a number of reasons and can often be treated successfully.













Ask our Experts :
Expert Advice, Personality, Immigration (US), Tarot, Hot Couture, Body Care, Matrimonial Laws, Sexual Health, Life, etc, Man vs Woman, Fitness.

Copyright © 2020 Shaaditimes.com - A relationship and wedding portal by Shaadi.com. - All Rights Reserved.
Terms and Conditions