Food For Roots


Dr. Rekha
A Certified Trichologist from International Association of Trichologists (IAT), Australia Dr.Rekha is a renowned hair-loss specialist. She treats clients with all types of Hair And Scalp conditions.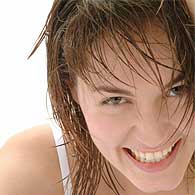 Our hair is possibly the most neglected part where getting any kind of nutrition from our body is concerned. That's the reason why our hair looks so dry and lifeless when we are sick, as all the nutrition is being diverted to the other important parts of the body.

Some important steps one can take for healthy shiny hair:
A wholesome diet, rich in silica, calcium and iron, will help reduce or prevent hair loss.
Green, leafy vegetables, especially sea vegetables, are good mineral sources.
Raw oats provide silica.
Dried fruits, dates and cherry juice are rich sources of iron.
For men, the balding process can be slowed down by taking a low-fat diet. Some scientists postulate that male pattern baldness is tied to increased testosterone levels during puberty. A high-fat, meat-based diet raises testosterone levels, and that may adversely affect hair follicles. Avoid red meat, ghee, cheese and butter that contain animal hormones. Eating low-fat foods might help slow down the hair loss.
Anemia is one of the most frequent causes of hair loss. Eat plenty of iron-rich foods, like liver (Avoid if you are pregnant) and other organ meat, whole grain cereals, dark green leafy vegetables, eggs, dates, and raisins.
The hair is comprised mostly of protein. To encourage hair growth, adhere to a diet rich in protein. A recommended diet for this purpose includes calves liver, brewer's yeast, wheat germ, and two tablespoons of granulated lecithin. Along with protein, these foods are also high in B vitamins, an important nutrient for hair.
Clinical studies have found that soy protein reinforces hair and stimulates its growth. In one study, the hair growth increased by 15 percent. Tofu and soy milk are good sources of soy protein. Other good sources of protein are: low-fat cheese, eggs, fish, beans, brewer's yeast and yogurt. All beans, any kind of white bean, lentil beans, red beans, black beans. They are rich in iron. They are rich in zinc. They are also a good source of biotin.
Another important nutrient for hair health is silica. Studies have shown that silica therapy slowed hair loss. Organic silica added to shampoo was found to help prevent baldness, stimulate healthier hair growth and assure beautiful shine, luster and strength. Silica is found in the outer coverings of potatoes, green and red peppers and cucumbers. Bean sprouts are also high in silica. Eat whole foods including sprouts.
Vitamin C improves the absorption of iron. Include a good serving of fruits and vegetables in your diet.
Vitamin E is important for healthy hair growth. Eat avocados, nuts, seeds, and olive oil on a regular basis.
If hair loss is due to thyroid dysfunction, eat more foods rich in vitamin A and iodine. Eat vegetables such as carrots or spinach in unrefined, cold-pressed seed oils such as flax, walnut or pumpkin seed and sea salt. Take turnips, cabbage, mustard, soy beans, peanuts, pine nuts and millet if there is a deficiency of iodine.
Quit some of the habits such as smoking, caffeine, aerated drinks, which weaken your bones and also affect your hair too.
Note: Excessive intake of Vitamin A can lead to hair loss.
Wockhardt Well Women Health check
Digital Thermometer
Master Health check
Rs.5,500 ($117.32)
Rs.950 ($20.26)
Rs.7,280 ($155.29)
Rs.3,949 ($84.24)
Rs.850 ($18.13)
Rs.3,159 ($67.38)











Ask our Experts :
Expert Advice, Personality, Immigration (US), Tarot, Hot Couture, Body Care, Matrimonial Laws, Sexual Health, Life, etc, Man vs Woman, Fitness.