Understanding Dandruff


Dr. Rekha
A Certified Trichologist from International Association of Trichologists (IAT), Australia Dr.Rekha is a renowned hair-loss specialist. She treats clients with all types of Hair And Scalp conditions.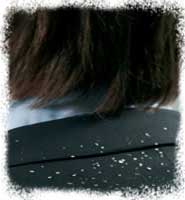 Dandruff is due to the excessive shedding of dead skin cells from the scalp.

As it is normal for skin cells to die and flake off, a small amount of flaking is normal and in fact quite common. Excessive flaking can also be a symptom of seborrhoeic dermatitis, psoriasis, fungal infection or excoriation associated with infestation of head lice.

There is a common misconception that dandruff is caused by scalp skin being too dry. Hence some people avoid washing their hair, believing that the drying effect of shampoo will worsen their dandruff. Their scalp is probably not being cleansed enough; the scale is building up into larger, more noticeable flakes before it falls off the skin. Dandruff problems tend to occur more frequently in people with oily skin and hair.


Dandruff is caused by microorganism called pityrosporum-ovle, which are present in every body's scalp. Symptoms of dandruff get aggravated when exposed to dust, UV light, harsh chemical based shampoo, hair dyes and this results in increased number of microbes which causes unhealthy residue over the scalp. This leads to dandruff, which is the cause of unhealthy scalp and results in unhealthy, lifeless hair and may result in excessive loss of hair too.

Seasonal changes, stress, and certain diseases seem to affect seborrheic dermatitis. The cold, dry air of fall and winter often triggers a flare-up.

Emotional stress can worsen the condition as well. Skin cells that grow and die off too fast are the cause of dandruff, but doctors do not know why this happens. Some people with severe flaking have overactive sebaceous glands (whose task is to lubricate the skin with oils); others have an elevated level of the fungus Pityrosporum ovale, which is present in most people but to excess in dandruff sufferers. Other causative factors include family history, food allergies, excessive sweating, use of alkaline soaps, yeast infections, and stress. Even the season of the year can contribute to the problem: Cold, dry winter is notorious for bringing on dandruff or making it worse.

How to Get Rid of Dandruff?
Dandruff can often be a chronic condition, but it can be controlled with the proper treatment.

First, try shampooing with a non-medicated shampoo, massaging the scalp firmly, and then rinsing well. If this fails to help, special anti-dandruff shampoos are usually helpful. Instructions for use depend on the specific shampoo used. Some are used on a daily basis, while other are used only once or twice weekly.













Ask our Experts :
Expert Advice, Personality, Immigration (US), Tarot, Hot Couture, Body Care, Matrimonial Laws, Sexual Health, Life, etc, Man vs Woman, Fitness.

Copyright © 2020 Shaaditimes.com - A relationship and wedding portal by Shaadi.com. - All Rights Reserved.
Terms and Conditions