Learn how to eat wisely at shopping malls
This weekend, I will spend three or four hours in our local mall. We will walk, browse, buy gifts, go to the movies -- and eat. And that's where the potential problems begin. With more shopping malls in India and the majority of us eating something whenever we visit one, there's potential for doing some serious diet damage during the already difficult weekend "eating". With a few key strategies, however, we can steer clear of calorie rip-offs while we're bargain hunting for the weekends.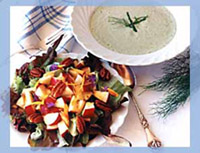 Life gets busy. Use these tips to help you eat as nutritionally as possible at your favourite fast food establishment. Set new parameters. Now when you eat at fast food places there will be new rules in place.

Order milk: From now on, order milk not soda.
Choose wise: Certain fast food restaurants have naturally more nutritious choices than others.

Keep it casual
Look for the "light" or "healthy" menu items.
Ask questions about how your dish is prepared, and don't be shy about requesting it to be prepared without oil or butter.
Look for baked, grilled or broiled choices, and stay away from fried foods.
If there is a salad bar, check it out. It may be a meal in itself. Watch the dressing.
Ask for all dressings, butter, sour cream and sauces on the side, and use them sparingly.
Many of these restaurants pride themselves on huge portions - share a dish or take half home. If you want a dessert, share it with a friend and take only a few small bites.
Order soup or salad as an appetizer (avoid creamy soups and dressings).


Don't starve
Resist the urge to starve yourself until you feel compelled to run to the food court and eat the first thing you can get your hands on. Ideally, eat before shopping or, if it's going to be a full day at the mall, schedule a meal break somewhere in the middle.

Avoid variety
When you're strolling through the food court, watch where you're going. The more choices there are, the worse it is. Decide what you're going to have before you get to the food court. Don't just walk in there without any preparation and be tempted by all the choices.

Mix and match
Remember, there's no law that says you can't mix and match foods from different vendors, as long as you've planned ahead. For example, get the chicken tikka at the Mughlai restaurant, a vegetable soup at the Chinese restaurant and a low-fat frozen yoghurt from the ice cream shop.

Eat for real
You may think you just want something to "hold you over," but most times you'd be better off having a full-blown meal. Snacks can easily add up to the same amount of calories and fat as a meal - and then you end up eating twice, with double the calories.

Bring your own
We pack lunches, drinks and snacks for our younger kids when we go out with them - why not do it for ourselves? Since most malls have an open seating policy, you can bring your own sandwiches or food to enjoy in the food court. You'll be eating healthier and saving money, too.













Ask our Experts :
Expert Advice, Personality, Immigration (US), Tarot, Hot Couture, Body Care, Matrimonial Laws, Sexual Health, Life, etc, Man vs Woman, Fitness.

Copyright © 2023 Shaaditimes.com - A relationship and wedding portal by Shaadi.com. - All Rights Reserved.
Terms and Conditions