Home Made Face Masks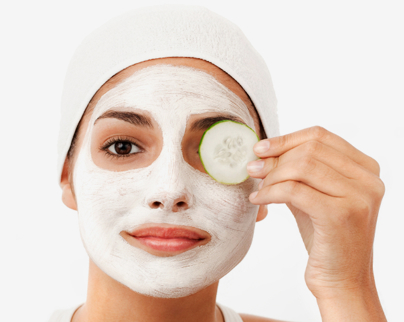 Every girl loves to visit a spa, sometimes a relaxing day of home beauty therapy is also good for the mind and body. So, we list down some natural home made face masks you can try using. The ingredients used in these facials treatments will leave your skin looking and feeling great. Here are 5 easy masks you should try...


Skin Smoothing Banana Mask
This stunning face pack is made with banana, avocado and cucumber and it's packed with natural moisturising oils and nutrients. The avo is rich in Vitamin E to promote firm, healthy skin, and the cucumber is a natural anti-inflammatory to sooth dryness and redness away. Simply blend all the ingredients together, add a table spoon of antioxidant laden olive oil and apply.

Pore Minimising Egg White Mask
This mask is amazing! Simply separate the whites and yokes of two eggs, beat the whites until they're stiff and apply it to your face. Leave it on for around twenty minutes and then rinse with luke warm water. Your skin will feel firmer and your pores will have shrunk dramatically!


Coconut and Honey Mask
This is a great mask for softening facial skin and targeting mild blemish problems. You'll need a handful of oatmeal, a generous table spoon of organic honey, and enough coconut milk to make the whole mixture like a dense, sticky porridge. The coconut milk smooths and nourishes, honey is a natural toner and oatmeal gently buffs away dead cells when you wash the mask off.

Tomato and Yoghurt Deep Cleanse
This unusual mask is great to clear out blocked pores and blackheads. Simply blend up a tomato, add a generous table spoon of natural yoghurt, a glug of olive oil and a dash of vinegar. The tomato opens up your pores, vinegar is a powerful natural detergent, yoghurt acts as a cleansing and softening agent, gently fading dark patches. And the olive oil takes care of dryness and delivers an antioxidant shot.

Almond and Pineapple Astringent Scrub Mask
You'll need a handful of ground almonds, a dash of pineapple juice and a couple of pieces of blended pineapple. Mix the whole lot up together and apply it to your face. The ground almonds are a fantastic exfoliant, and the pineapple, with its skin-softening enzymes, helps to prepare for a really effective scrub.


A shaaditimes feature
Citizen Digital Blood Pressure Monitor
Heart Check
Wockhardt Well Women Health check
Rs.2,950 ($62.93)
Rs.5,500 ($117.32)
Rs.2,150 ($45.86)
Rs.4,900 ($104.52)
Rs.3,949 ($84.24)











Ask our Experts :
Expert Advice, Personality, Immigration (US), Tarot, Hot Couture, Body Care, Matrimonial Laws, Sexual Health, Life, etc, Man vs Woman, Fitness.