Glam It Up With Nail Extentions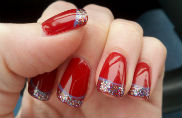 Acrylic nails look cool, provided you know how to carry them off without letting people know that you're faking it. And the best thing about them is that you can actually shape them up the way you want to and use your choice of nail paints. Now that means you need to be good at shaping all the ten nails evenly. And remember, they last long only if they're taken good care of. So, here are some tips on how to flaunt crazy nail art and keep the nails in the best condition:



Put Them On



To stick the acrylic nail, you firstly need to clean your real nails, push back the cuticles and trim them a bit.
Now, put a drop of glue on your nail one-by-one and place the acrylic nails quickly.
If the nails do not fit properly, file them with a nail filer but only once its properly stuck. And please do not put too much pressure on them at a party or you'll make a fool of yourself in front of people.
To remove the nails you just need to soak your fingers in a nail solution and take them off.
As far as funky nail art goes, if you're creative enough you can buy some good nail art pens and make your own designs on the acrylic nails. If not, you have the option of sticking nail art stickers that look quite cool and are easily available in any beauty centre.
Making Them Last Longer

Always keep acrylic nails dry. Water or harsh chemicals can ruin the texture of the nails.
Put on rubber gloves while doing your regular household chores. It will protect your nails from chipping and splitting.
Swab the acrylic nails with alcohol before going to bed. This helps cleanse the nails of any dirt or bacteria.
In case, the nails look a bit cloudy after cleaning them with alcohol, just finish them off with a coat of transparent nail paint.

Crazy Nail Art

The ideal shape for a nail is straight sides with either a square or oval tip. Remember, nails that are pointed are weaker and need more care and protection.
The shape of the acrylic nails should compliment your hand size and cuticle shape. Petite hands, for instance, look best with long, rounded (almond-shaped) nails, while heavy-set hands and wide nails look best with nails that are more squared-off. If the cuticle is oval then, make sure the nail tip is oval too.
French manicure is in these days. You can try the French manicure look by painting the base coat of the acrylic nails in a neutral tone, such as a salmon colour. With a white hue, once dry, paint the tips of the nails carefully.
Think of dark polish as an accessory, and don't overdo it by wearing lots of jewellery.
Try blending shades of polish directly on the nails. You could use stripes, dots or even create your own funky freehand patterns.
To look more creative you can stick cool stickers onto the nails. Take some nail glue, and carefully stick things like feathers or festive star shaped sequins directly to the nail. You can co-ordinate these with your outfit, jewellery or even your hair accessories.
Be it zebra stripes, metallic glints or otherwise. These crazy nail styles are just perfect for any occasion.
If you like some shimmer, choose a base colour and paint the nails with one coat. Immediately sprinkle some glitter onto the nails.
Dark blue and black are ideal with silver glitter, red with gold glitter, though the combination possibilities are endless. These glittery styles mostly complement wedding apparels, semi-formal wear and casual attires.
Shades like dark chocolate truffle, bitter chocolate, pink, red and raspberry cream are pretty much in vogue too.
Vipasha Pillai
Cotton Kurta with Gold Print
Wills Lifestyle Casual Top For Women
Applique Work Stripes Kurti
Rs.1,000 ($20.77)
Rs.1,380 ($28.67)
Rs.769 ($15.97)
Rs.1,395 ($28.98)
Rs.1,200 ($24.93)











Ask our Experts :
Expert Advice, Personality, Immigration (US), Tarot, Hot Couture, Body Care, Matrimonial Laws, Sexual Health, Life, etc, Man vs Woman, Fitness.