Edible Undergarments - Yum's The Word!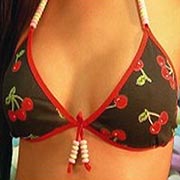 Top 14 Yummy Cover-ups

Gentlemen, if you thought pulling on a pair of silk boxers with red hearts or lipstick marks on them was equivalent to sending smoke signals to your beloved and being naughty meant doing the Birdie dance at the annual corporate bash, think again!!

Sexy just got a make-over...
And your missus might just want a taste of it too. Edible men's underwear is now vying alongside the feminine variety in posh stores globally and being made readily available in flavoricous choices like cherry, chocolate and passion fruit!


Ladies sweeten up...
We have it on good authority that some men just adore their women in satin boxer shorts. So consider a role reversal in wardrobe definitions for yourself now that candy pants and more are just a click away. Check this cutesy pair from WebUndies advertising 'Free Kisses'. Just remember to top them off with something wickedly sensual like the Black Cherry-Candy String TastyWear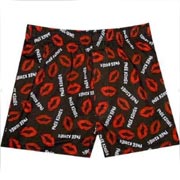 ...And you can bet you'll have your man eating out of your hand and perhaps even your halter-tops as this merry cherry duo are playfully hopeful of!

Remember our scoop on sensual, super-yum and even somewhat unorthodox choices in scanties (and panties) for the love of your life (even if that means you currently, it's a start) are what go a long way in helping you make it a night to remember, for ideas such as edible undergarments promise to be the answer to every unconventional lover's soul.

Check Out More Edible Underwear

Deepanjolie Sonya Figg
Wills Lifestyle Casual Top For Women
Applique Work Stripes Kurti
Wills Lifestyle Casual Top For Women
Rs.1,380 ($28.67)
Rs.1,495 ($31.06)
Rs.1,200 ($24.93)
Rs.1,395 ($28.98)











Ask our Experts :
Expert Advice, Personality, Immigration (US), Tarot, Hot Couture, Body Care, Matrimonial Laws, Sexual Health, Life, etc, Man vs Woman, Fitness.