Brand Wagon
MonaPali's bridal designs
Wedding belles

MonaPali's wedding trousseau has both ethnic and contemporary designs. When asked about their contemporary bridal designs the duo answers, "Each bride wants to be dressed differently; be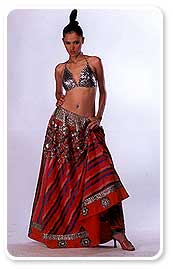 it in terms of colour, texture and design. Though red is the traditional bridal colour it is nowadays being substituted with various hues of pinks and oranges. Or the bridal attire may be basically red with many other colours thrown in. However, this season we are experimenting a lot with silver and golden fabrics for bridal wear and are supplementing them with a red, orange or vermilion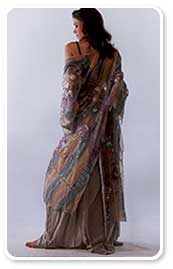 coloured dupatta .

The advantage of having a silver / gold / bronze coloured background fabric is that the embellishments with zari work, motifs and precious stones are easily discernible. We also have a peacock blue bridal wear made of Benarasi georgette with the innate colours of the peacock. The border that goes with it is in fact made of real peacock feathers.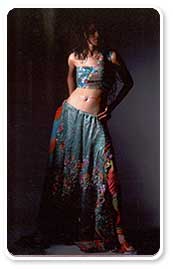 The duppattas , which go with it, come in green, blue and wine colours. We have designs for brides of all Indian ethnicities and religions. Being Kolkata based, our designs have a lot of influence from the Bengali heritage - shola work, Benarasi fabric, kantha , alpana motifs, Bengal folk motifs and terracotta accessories."

"We draw inspiration from the heritage and culture of our country," they chorus. "We alway believe that the only way to get recognition is to draw inspiration from our country itself rather than look

up to the West. So, we have always used traditional Indian art forms and motifs in our collection."

When asked about bridal embroidery, the sisters answer, "We have worked with Indian ethnic folk motifs, flowers, geometrics, wool work, cutwork with zardozi with solid colour underneath, gota work and the bagh design weaving a garden with birds and flowers." If you are looking for a wedding wear with a spiritual significance you may just pick up a piece with embroidered wedding mantras !


Pallavi Bhattacharya
John Players Signature Line T-Shirt for Men
Pink Printed Tunic
Applique Work Stripes Kurti
Rs.1,380 ($28.67)
Rs.1,095 ($22.75)
Rs.2,135 ($44.35)
Rs.1,200 ($24.93)











Ask our Experts :
Expert Advice, Personality, Immigration (US), Tarot, Hot Couture, Body Care, Matrimonial Laws, Sexual Health, Life, etc, Man vs Woman, Fitness.