Knotty, Not Nice!


Anuj Sharma
Mainly working with areas of craft development and performance wear, Anuj also teaches fashion and understands human behaviour with the help of fashion. He is a regular at the Lakme Fashion Week. Have a question? Click here...
India's innovative designers certainly have re-defined creativity. One of pioneers in contemporary draping is Anuj Sharma.

His latest collection displays a naught for knots... and shows all of us that it is certainly more interesting to be ''knotty'' than nice. His latest creation aptly titled '(k)not 4 You' is a combination of draping fabric with the technique and sophistication of European western couture.

His collection boasts of dresses in all lengths, but like most designers Anuj stayed true at knee lengths for comfort and glamour.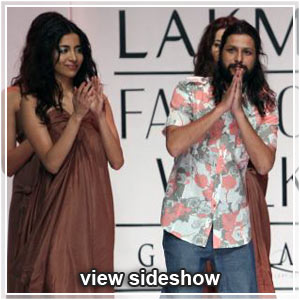 Shaaditimes caught up with the designer in Ahmedabad, where he teaches design. The ''Knotty'' collection manages to seamlessly create a dress with a collection of knots. ''No seams and no fastenings!'' The art inspired collection has a multidimensional element which women worldwide will find intriguing for not only its appeal but also utility. Paired with churidar, leggings, and pants the dresses can also be used as part of an ensemble outfit.

Let's hear what Anuj has to say about fashion and his predictions for the coming year!
Dresses seem to be the garment of choice this year? What inspired the "knotty" collection? Can you tell us about it?
At times it gets very difficult to reach a conclusion about new concepts. One can start from anywhere and there are millions of things to get inspired from. So when I get stuck I start playing with fabrics. One such time, I knotted the fabric and instantly I knew that this is something that I can work with.











Ask our Experts :
Expert Advice, Personality, Immigration (US), Tarot, Hot Couture, Body Care, Matrimonial Laws, Sexual Health, Life, etc, Man vs Woman, Fitness.

Copyright © 2023 Shaaditimes.com - A relationship and wedding portal by Shaadi.com. - All Rights Reserved.
Terms and Conditions