13 Memorable Wedding Moments From The Movies

Scenarios ranging from the sublime to the ridiculous!

Check out how many you remember watching and book the DVDs for the ones you missed for a cozy weekend of popcorn, snuggle-bug emotions or just some great laughs as you click through our favourite picks. Here are Memorable Wedding Moments From The Movies!!

Now, if you are an NRI by any chance, there's really no way you can avoid the in-your-face existence of various Karan Joharesque productions. But no matter where you live and what you eat for breakfast, movies, be it Bollywood or Hollywood, are an essential and unavoidable part of our mental make-up (If it isn't so for you, hop the first shuttle to Mars, who's stopping you!) and so are weddings portrayed in them.


We bring you our fave silver screen moments and hope you respond with your favourites too.

Kal Ho Na Ho: Because it makes us fall in love with Bollywood ishtyle movie magic! Suave charmer Shahrukh Khan and zingy (Preity) Zinta win our hearts with their inimitable style even as she is kootchie-cooed, wooed and wedded by buddy, Saif Ali Khan, all the while nursing a tendresse for King Khan. The verve of 'Mahi Ve' is infectious and hard to resist and gets a thumb up for being the peppiest song-and-dance sequence so essential to wedding rituals in North India - a Karan Johar extravaganza!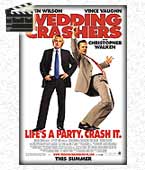 Wedding Crashers: Our endearing tearjerker wedding moment from the movies centres on Owen Wilson a.k.a. John Beckwith's true-blue style avowal of love in Wedding Crashers when he says, "The person I love the most is standing right here and I'm not ready to lose you yet. Claire, I'm not standing here asking you to marry me, I'm just asking you not to marry him and maybe take a walk, take a chance."
For someone who is a pro at crashing Hindu, Jewish and even Chinese weddings, the declaration of his feelings for Claire (played by Rachel Mc Adams) comes as a fitting denouement for this happy, bemused and thoroughly lovable wedding crasher. We love the spontaneity, man - real and cute!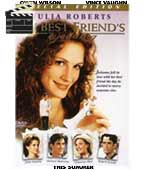 My Best Friend's Wedding: Starring Kimmy (Cameron Diaz), Michael (Dermot Mulroney) and Julianne (Julia Roberts) is full of funny, touching and everyday emotion inducing moments. Julianne doesn't realize till best friend Michael's wedding is fixed to dizzy blonde Kimmy that he is perfect for her! So, practicing her womanly wiles, she plots to steal him back!! Her deviousness vies with her obvious desperation and makes us intermittently laugh and empathize with her through the movie, but we dig her tenacious spirit in the movie climax - yeah, cut to the 'chase' for the 'don't let go of love-buddy' moment!! For, what's love if you don't really make a right royal fool of yourself over it, right?

Check out the other wedding moments from the movies that made us laugh, cry, snuck a nose or just go 'awww!'

Deepanjolie Sonya Figg
Wills Lifestyle Casual Top For Women
Wills Lifestyle Casual Denim For Men
John Players Casual T-Shirt for Men
Rs.1,495 ($31.06)
Rs.1,695 ($35.21)
Rs.995 ($20.67)











Ask our Experts :
Expert Advice, Personality, Immigration (US), Tarot, Hot Couture, Body Care, Matrimonial Laws, Sexual Health, Life, etc, Man vs Woman, Fitness.