B-town Pairs We Would Love to See

Most of us are already bored of watching Katrina Kaif and Akshay Kumar or even Sonakshi Sinha and Akshay together onscreen. With some fresh and new talent in Bollywood, we'd like to see our hit stars pair up with celebs they haven't been spotted working with. It could be Hrithik Roshan with Deepika Padukone or John Abraham with Kareena Kapoor, sound's good, doesn't it? Take a look at our list of celebs who we think would look good together on screen...

Here's a sneak peek...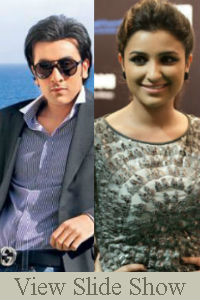 Vipasha Pillai
Applique Work Stripes Kurti
Wills Lifestyle Casual Top For Women
Cotton Kurta with Gold Print
Rs.1,380 ($28.67)
Rs.1,000 ($20.77)
Rs.1,200 ($24.93)
Rs.1,395 ($28.98)
Rs.769 ($15.97)











Ask our Experts :
Expert Advice, Personality, Immigration (US), Tarot, Hot Couture, Body Care, Matrimonial Laws, Sexual Health, Life, etc, Man vs Woman, Fitness.