Big B Turns 70!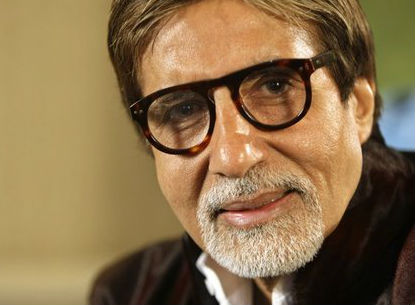 Facebook, Twitter, news channels, radio, newspapers have only been discussing Big B's birthday. After all, Bollywood's Baadshah has turned a year older today! Over the years, people have been obsessed with Big B, his acting skills and most importantly, his baritone. It's his 70th birthday today, so we spoke to some of his fans and here's what they had to say about him...

Manoj Bajpayee:

"His behaviour, his discipline and his punctuality are something that everyone should try and emulate. I believe I have become an actor of some importance just by working with him. I consider myself really lucky to have worked with him. I wish him all the luck for the future and a very Happy Birthday!"


Sonu Sood:

"We've all grown up watching Big B films and every actor has a little bit of Bachchan in him. Infact, Trishul, Deewar and Sholay are like Bible for me. I think he's the only actor who looked good in comedy, convincing in action and stupendous in emotional scenes. He's a living legend and I really admire him."



R Balki:

"His poker-faceed wit, humour and his patience are three things about him that I can never forget. For me, he is the ultimate dude and there's absolutely no one like him in Bollywood. I just want to wish him a very happy birthday!"


Karan Johar:

"I grew up watching Mr.Bachchan's films. He's so big that I think even the word 'legend' doesn't do justice to Amitji. When he enters the room, he just overawes everyone! Even today. I always touch his feet whenever we meet, be it in Mumbai, London or New York. The respect just flows naturally. That's just the kind of man he is. India is really lucky to have him."


Zeenat Aman:

"Everyone in the industry is aware about the fact that he's a very punctual man, inspite of being a superstar. He's always been punctual on all his sets and I must say, he's got a great sense of humour. He's got a heart of gold and he's one man who's always been there for poeple in times of trouble. He's a beautiful human being. I wish him all the luck and many more years of success on his birthday!"

ShaadiTimes.com wishes the Shehenshah of Bollywood a very Happy Birthday!


Vipasha Pillai
John Players Signature Line T-Shirt for Men
Wills Lifestyle Casual Top For Women
Wills Lifestyle Casual Top For Women
Rs.1,095 ($22.75)
Rs.1,395 ($28.98)
Rs.1,495 ($31.06)











Ask our Experts :
Expert Advice, Personality, Immigration (US), Tarot, Hot Couture, Body Care, Matrimonial Laws, Sexual Health, Life, etc, Man vs Woman, Fitness.