Jannat 2 Success Party

The Jannat 2 team was gathered at hotel JW Marriott, Mumbai on 8 May to celebrate the film's success. We agree, that the film has got mixed reviews. But the response has been pretty good across the country. The film managed to make Rs 8.5 crores on the very first day of it's release. Emraan Hashmi looked really happy and so did the new girl Esha Gupta, who was one of the main attractions in the party. She looked absolutely stunning in her red dress...

Here's a sneak peak at the party pictures...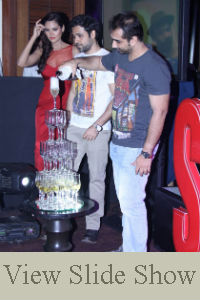 A shaaditimes feature
Spykar's Denim Jeans For Women
Cotton Kurta with Gold Print
Pink Printed Tunic
Rs.1,999 ($41.52)
Rs.1,000 ($20.77)
Rs.1,899 ($39.45)
Rs.769 ($15.97)
Rs.2,135 ($44.35)











Ask our Experts :
Expert Advice, Personality, Immigration (US), Tarot, Hot Couture, Body Care, Matrimonial Laws, Sexual Health, Life, etc, Man vs Woman, Fitness.