The shak-a-laka baby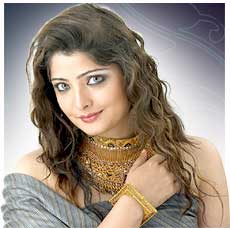 Her first playback song, Shak-a-laka baby, composed by A R Rahman won her awards. She has come a long way since then. Beautiful and talented actor-singer Vasundhara Das gives shaaditimes an exclusive interview on her career, forthcoming film releases, beauty secrets and her ideal guy.

What are you more passionate about - singing or acting?
If you asked me this question five years ago I would say singing. But now I would say both singing and acting.

What motivated you to get into acting? Did you take any acting course? How did you learn acting?
I didn't take any acting course but simply learnt on the job. I didn't even plan to be an actor. I was found by accident. After my graduation I had travelled to Chennai in the search of a record deal as I wanted to make my own music album. The first music company I worked with put me in touch with personalities of the film world who gave me film offers. I was quite surprised with all the film offers and decided to take the screen test for Hey Ram and successfully cleared it.

Of all the roles you have played which is your most challenging role?
My role in Hey Ram is the most challenging. Although my character Mythli is multi-layered, she's very innocent, na?ve and much younger than Kamal Hasan. She has high ideals about love. However she marries a man who is completely contrary to her expectations. Her husband is a bit crazy and can't let go off his grief of losing his first wife. He doesn't love his new wife Mythli. But Mythli is his confidant and in the process he falls in love with her. It was a time that women were not expected to be opinionated but Mythli is educated and challenges her husband's views on Gandhi.

Which role can you identify with the most?
I can identify with all the roles I play. I don't take roles if I can't identify with them.

In Monsoon Wedding you play a girl who enters into an arranged marriage with an NRI guy she barely knows. Would you be able to do the same in real life? What do you prefer- an arranged marriage or love marriage?
No, arranged numbers have never been on my cards. Even my parents haven't had an arranged marriage but fell in love and married out of choice. They have encouraged me to follow my dreams and choose my own partner.


What's your ideal man like?
I'm really not thinking of marriage now as I am focusing on my career. I don't have any fixed requirements for my ideal guy but someone with a sense of humour would be good. After all at the end of the day you would like to laugh at yourself and life. I would like him to be practical and who can believe in me. His inner qualities would be more important to me than he being a hunk.

You are beautiful. Any beauty secrets you'd like to share with us?
I don't believe in using makeup 24 X 7. God has given every woman some natural beauty. So I use makeup when I am shooting. I just try to keep my skin hydrated by using natural creams.

Tell us about the film you are working on now.
It's called Ek Dastak directed by Sudhanshu Jha. That's all I can say about it now. I have finished Kudiyon Ka Hai Zamana co-starring Rekha. It's about four women in different stages of their lives. Then there is Pathar Bezubaan about the Mathura rape where I play a police superintendent.

You've sung in French and Spanish too. Can you speak these languages as well? What other languages would you like to sing in?
My mother tongue is Tamil. I can't speak French but I can speak some Spanish. Thankfully I don't seem to have language barriers. I've acted in films in various regional Indian languages and can sing in foreign languages as well. I would like to sing in other languages too.

Do you have a boyfriend now?
That's not something I'd like to talk about right now.


Pallavi Bhattacharya
Wills Lifestyle Casual Top For Women
John Players Casual T-Shirt for Men
Applique Work Stripes Kurti
Rs.1,380 ($28.67)
Rs.1,495 ($31.06)
Rs.995 ($20.67)
Rs.1,200 ($24.93)











Ask our Experts :
Expert Advice, Personality, Immigration (US), Tarot, Hot Couture, Body Care, Matrimonial Laws, Sexual Health, Life, etc, Man vs Woman, Fitness.