Pooja Bedi's Fitness Mantra!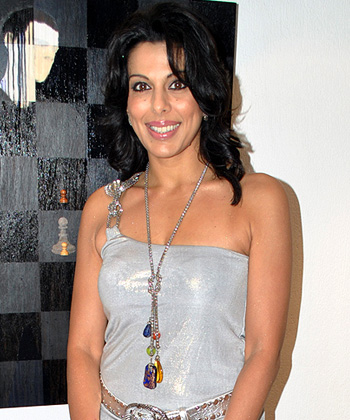 For actress and socialite Pooja Bedi, being fit is no rocket science. "You have to eat the right food or enjoy what you eat and then burn it the next day," says Pooja. She doesn't believe in following a strict fitness regime. For her its important to be in shape. Here's what the actress does to keep herself fit...
I am…
not really a fitness freak. I just like to be in shape.

My exercise routine…
is not necessarily going to the gym. For me gyming everyday is a little boring. So, it all depends on my mood. At times I do yoga and meditation at home. I also enjoy kickboxing, power yoga, aerobics and swimming. So, that is something I do to keep myself fit.

I am fond of...
butter chicken, chaat, red meat and in desserts I love gajar ka halwa, ras malai, cheese cake and dhoi misthi.

I avoid eating…
gorging on sweets as much as possible and I stay away from deep fried stuff.

My eating schedule…
I eat just about everything. My diet consists of 20 per cent carbs and 80 per cent proteins. I am a vegetarian 3 days a week. In the morning I eat either fruits or cereals and 2 egg whites and a yolk. Then, after about 2 hours I have a glass of protein shake mixed with an egg white and a fruit. For lunch, I have a piece of chicken, some dal and one sabzi with 2 rotis. It's the same for dinner. But yes, when I'm on a veg diet, I eat a hearty salad for dinner.

Fitness to me…
is definitely important. Apart from physical and mental fitness, I believe it's also very important for one to be emotionally fit. One shouldn't be over stressed. Having a calm and a happy mind is of utmost importance.


Fitness tips…
I would say listen to your body, it actually talks. Eat when your body needs food, don't eat just because you know now it's time for lunch/dinner. Also, try and have a healthy routine. Love your food and enjoy what you eat, but make sure you burn it the next day.



Vipasha Pillai
John Players Signature Line T-Shirt for Men
Pink Printed Tunic
John Players Casual T-Shirt for Men
Rs.1,095 ($22.75)
Rs.2,135 ($44.35)
Rs.995 ($20.67)











Ask our Experts :
Expert Advice, Personality, Immigration (US), Tarot, Hot Couture, Body Care, Matrimonial Laws, Sexual Health, Life, etc, Man vs Woman, Fitness.