« continued from previous page


MAYBE BABY - Jay Sean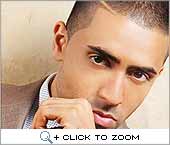 What puts you off in a woman?
Bad attitude. I hate women who think they're all that... Even if they are, so what? To me, what I love are girls who're good looking and have a great personality. It's harder to develop a great personality than it is to be born with good looks.

Typical day of Jay Sean
I can't start my day without Indian cha. Then I'll probably go to the gym, although I've had to stop recently after dislocating my shoulder during weights. It was freaky; my arm was dangling like a monkey. Luckily, this big lad came and popped it back in. So after gym, I'd go to the studio, write, record, hook up with friends, catch up, sleep, then do it all over again.


What do you miss the most about working with the RRP?
The jokes. Every single trip has been so much fun. We're all stupid in our own way. Nothing compares to touring the world with Rish and Jugs.

Can you reveal a deep, dark secret about either of them?
Rishi is actually mental. Not a lot of people get to see that side of him. Lot's of people think he's quiet but he's mad. In Puerto Rico, Rishi got completely drunk and grabbed the mic in a Reggaeton club and started doing some raga MC-ing which was hilarious. And Juggy chases me naked around the room.

Have you seen Juggy naked?!
Yeah, all of us have. In fact, I don't know anyone who hasn't seen Juggy naked. He's a complete party animal and he has no inhibitions about anything. He'll take his kacha off and chase you around the room naked.

Do you sing to your girl in bed?
Yeah, I have done.

Have you? Ever sung your own songs?
Oh yeah, that would really turn them on wouldn't it? I'll sing Dance With You including Juggy's part. Yeah, that's when the girl goes crazy. It's when I sing "Kurri soni te akh mastani" is the line that does it for them.

Anything else you'd like to say to our AW readers?
Yeah, I'd like to say thanks so much for all your continued support and look out for the album. It's going to be something you'll hopefully enjoy and it might even get YOU in the vibe.


Sona Karia
An AsianWoman Magazine Feature
Applique Work Stripes Kurti
Wills Lifestyle Casual Top For Women
Spykar's Denim Jeans For Women
Rs.1,380 ($28.67)
Rs.1,999 ($41.52)
Rs.1,200 ($24.93)
Rs.1,395 ($28.98)
Rs.1,899 ($39.45)











Ask our Experts :
Expert Advice, Personality, Immigration (US), Tarot, Hot Couture, Body Care, Matrimonial Laws, Sexual Health, Life, etc, Man vs Woman, Fitness.