MAYBE BABY - Jay Sean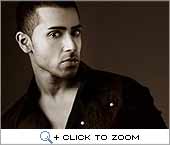 Brace yourselves. He's back and sexier than ever. Jay Sean opens his doors...

I'm going to cut straight to the chase, Ride It... What does it mean?
It means whatever you want it to mean. It could mean riding a motorbike or riding a horse. Or it could just mean getting down... Whatever you want. (The Jay Sean humour is obviously one thing that hasn't changed).

Ok, so if you could ride one person, who would it be?
Beyonce... She's as fit as hell.


It's been a while since we've seen you, what have you been up to?
I've been chillin', bought an ice-cream van... Nah seriously, I've just been touring like a maniac and been busy writing my second album.

How do you feel about Rishi leaving 2Point9 Records?
Rishi wanted to set up his own venture and if that's what it took then so be it. I support him 100% and so do the 2Point9 camp. There's no beef, which is what makes it so nice. You have to do what makes you happy.

Is there still a Rishi Rich Project? What's happening with you all now?
When Rishi and Juggy came out of the closet and admitted they were gay lovers, I obviously had to take a different path (another classic example of Jay Sean humour). Nah, we're just doing our own thing. It's all natural progression when you're part of a group. The funny thing is, the Rishi Rich Project was never a band. We never actually had an album out! We were just a collective and we'll always remain a collective. This is not the end.

Can you reveal to all our readers, what's your dream woman?
She's got to be at least a 34C... Joke... But it would help. For me, it's all about having a laugh with my girl. It's so important to have fun and enjoy myself. That is to me, the meaning of life. If I can't laugh out loud at least once a day, then I haven't had a good day. What is the point of me having a beautiful girl if I can't have jokes with her?

So you wouldn't mind an average looking woman who makes you laugh?
Well I have to be attracted to her in order to erm... have babies but she's got to be my homey.

Pretty face or fit body?
Pretty face.

Sex or make love?
I think you've got to have a bit of both. To have a 'make love vibe' everyday gets a bit boring. Sometimes, you just wanna have rampant, wild, animal... erm, sex.

What's the most romantic thing you've done for a woman?
It doesn't have to be all the clichéd roses and all that cheesy stuff. What's romantic is remembering things. For example, if she spotted a pair of shoes and really liked them, I would buy them without her knowing. It's about remembering what's important to her (I think I'm in love, ladies).













Ask our Experts :
Expert Advice, Personality, Immigration (US), Tarot, Hot Couture, Body Care, Matrimonial Laws, Sexual Health, Life, etc, Man vs Woman, Fitness.

Copyright © 2022 Shaaditimes.com - A relationship and wedding portal by Shaadi.com. - All Rights Reserved.
Terms and Conditions